cinéma
Exposition
micropolitics
Circumference of the (Common) Birds
Solo show at Les Laboratoires d'Aubervilliers
From Friday 1 June to Saturday 7 July, 2018
Vernissage: Friday June 1 2018, from 6 p.m.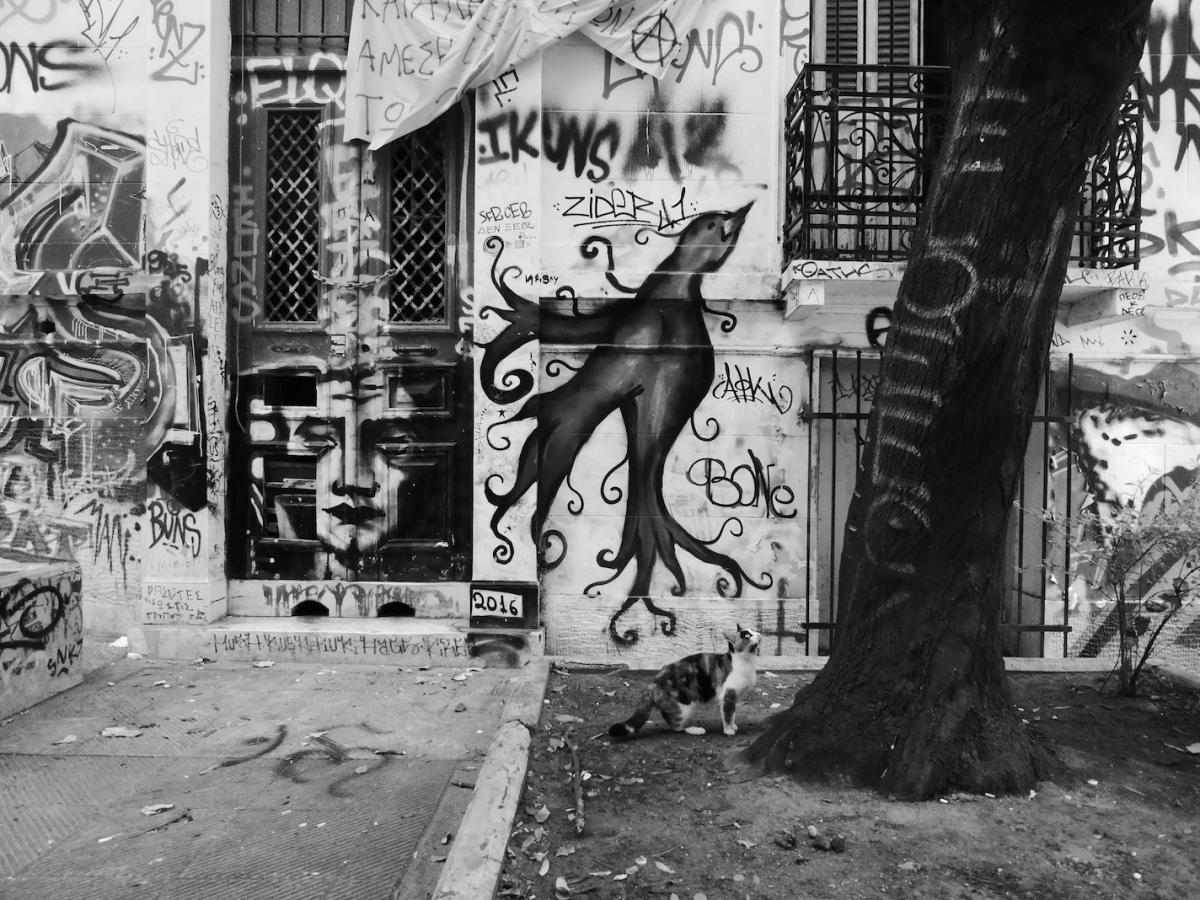 For the last act of their residence common infra/ctions, artists and filmmakers Silvia Maglioni and Graeme Thomson have conceived an exhibition that bridges the two principal phases of their research into an infra-world of threshold states between forms and languages, works and tools, production and use, making and unmaking.
Circumference of the (Common) Birds is a 3-screen video installation that expands upon the territories of the film Thomson and Maglioni are currently developing, Common Birds, an experimental adaptation of Aristophanes' play The Birds, reworked in the context of the ongoing Greek and larger global debt crisis. Around 2500 years ago, Aristophanes imagined two citizens who decide to leave Athens to avoid paying an unjust debt. Guided by two crows, they reach the realm of the birds where money does not exist and life is governed by a sharing of resources outside of all economic logic.
Through an interactive theremin interface, enabling visitors to sculpt and remix the sound environment through gesture, the installation Circumference of the (Common) Birds circles around the film's underlying themes: the refusal of debt; the flight from the money economy and the embrace of commoning as a form of life; the liberation of human language from the grip of financial capital and the exchange value of communication through poetic alliance with birdsong; the forest as a space of withdrawal and resistance, where interspecies relations can be reinvented and the time stolen by capital regained.
Meanwhile, a second space will widen this circumference, by enabling the autonomous activation of the Dark Matter Cinema Tarot. Conceived by the artists during the residence as a "vernacular technology", the DMC Tarot consists entirely of still frames drawn from the history of cinema. Over the past two years, Maglioni and Thomson have been using it internationally in a series of collective readings, confronting topics from the persistence of France's state of emergency to the Catalan independence crisis to the relation between commoning and singularity. Visitors are invited to gather together around a table and conduct readings of their own, posing and responding to burning questions and sharing visions by speaking through cinema images and the ghosts of both past and future lives that inhabit them, while continuing to dwell in the realm of the common birds.
Sound spatialization and thérémine coding : Vincent Rioux
The show will be accompanied by three public events and by exceptional activiations of the Dark Matter Cinema Tarot :
Circumference of the (Common) Birds
Exhibition opening
Friday 1 June 2018, from 6 p.m.
Dark Matter Cinema Tarot
Friday 8 June 2018, 8 p.m.
A new Nocturnal Committee at Les Laboratoires d'Aubervilliers for a special DMC Tarot collective reading, followed by the launch of a limited edition of the cards, with the complicity of Leire Vergara (Independent curator, member of Bulegoa z/b, Tutor of the study group "Curating Positions" at DAI - Dutch Art Institute), Jon Mikel Euba (artist) and other guests.
Sylvan Screen
Tuesday 3 July 2018, 7 p.m.
A visual and sonic immersion in the forest as a potential space of cinema, with Teresa Castro (Lecturer in Film and Audiovisual Studies at Sorbonne Nouvelle - Paris 3, writer and researcher). The evening will end with a potlatch dinner, where everybody is invited to bring something to eat and/or to drink to share.
Exceptional activation of the Dark Matter Cinema Tarot :
Friday 15th June 2018, at 4 p.m. ― Barbara Manzetti
__________________________
Silvia Maglioni & Graeme Thomson, Common Birds, courtesy the artists, 2018
Silvia Maglioni & Graeme Thomson, Dark Matter Cinema Tarot, Nocturnal Committee at MACBA Barcelone, 2017
Exhibition opens at Les Laboratoires d'Aubervilliers
41 rue Lecuyer - 93300 Aubervilliers
from Wednesday to Saturday, 2 p.m. - 6 p.m.
and by appointment
at reservation@leslaboratoires.org 
or +33 (0)1 53 56 15 90
_________________________
The project is kindly supported by Cnap - Centre national des arts plastiques for an artistic research/production and by DICRéAM.