Manifesto #4 - Antoine Dufeu and Patrick Corillon
installation
performance
literature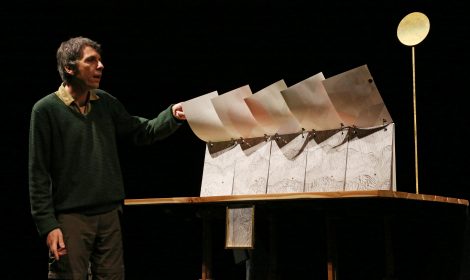 Antoine Dufeu - Pour une littérature amorale (For Amoral Literature): Writer, performer and director Antoine Dufeu will write a manifesto on his idea of literature and his own practice in front of a live audience. The manifesto will be published at 10 pm on caradisiac.com, "the leading site for automotive news". "We are not free. We even get the impression that our idea of freedom is regressing, being mishandled, mocked by a morale that does not give its name, that of a fatal scattering, even more so than division. But thankfully we are passionate. Thankfully, two hearts beating as one are enough to reclaim affirmative speech.  Thankfully, we catch glances that, for just a moment, shoot out to the horizon […] So it is high time we got rid of our scaredy-cat reflexes, to leave the house, give ourselves the means to trust ourselves again and go beyond our interests only. It is high time we breathed deeply and slept deeply too. May every sleep be like a little death!"

Patrick Corillon - L'appartement à trous, 60 minutes pour parler toutes les langues (Holey apartment, 60 minutes to speak all languages): on a table with multiple drawers, Patrick Corillon (artist, writer, playwright) brings to life sketchbooks made by prisoners sentenced to death. Their drawings of people and landscapes accompany the stories that they told themselves to keep hope alive. We all know that stories can save us, but do they have that power because they lead us far from the world we live in or on the contrary because they give us the strength to face the starkest realities?

As part of Hospitalité, a visit organised by Tram: "7. Nulle île n'est une île" (No island is an island"), with the Musée d'Art moderne de Paris (Leonor Antunes, Julien Prévieux and Marie Voignier), the École municiaple des beaux-arts / galerie Édouard Manet, Gennevilliers (Julien Prévieux and Adrien Missika), Synesthésie (Thierry Payet) and les Laboratoires d'Aubervilliers.
---------------

+ date
saturday 6 july, 7pm
+ duration
30' and 60'
+ free entrance, reservation required (spaces are limited)
Contact: reservation@leslaboratoires.org / +331 53 56 15 90

---------------

Image: Patrick Corillon by Bohumil Kostohry