meeting
institutional critic
environmental activism



In the midst of the climate crisis, an international movement of arts/activist collectives has taken shape around a common demand to cultural institutions: cut all ties to fossil fuels. Railing against BP's sponsorship of Tate Galleries in London, Shell's sponsorship of climate change programming at London Science Museum, Total's sponsorship of the Louvre, and climate denier David Koch's position on the board of the American Museum of Natural History, these groups are taking aim at the role cultural institutions play in variably green-washing or "art-washing" fossil fuel sponsors--laundering their public image, while diverting attention away from their relentless environmental and human rights abuses around the world.
On the occasion of the 21e UN climate summit in Paris, COP21, Les Laboratoires d'Aubervilliers and La Générale will co-host a two-day meeting with groups from 6 or 7 countries around the world that are all doing "cultural divestment" work, borrowing methodologies from Institutional Critique to call on cultural institutions to cut ties to sponsors from the fossil fuel industry. Some of these groups are Liberate Tate (UK), BP or not BP? (UK), and Not An Alternative (US).
Drawing on strategies culled from the artistic practice of institutional critique and activist organizing in equal measure, they suggest that we should recalibrate our relationship to institutions--to not only imagine ways of opposing, dissolving, or drawing lines of flight from existing institutional power, but also to imagine how existing institutional forms can be occupied and used as tools for the production of culture and collective solidarity against the corporations that bare the greatest responsibility for climate change.
Tuesday 8th December, from7 pm
An evening of public debate is organised at Les Laboratoires d'Aubervilliers, with Not An Alternative, BP or not BP? and Liberate Tate.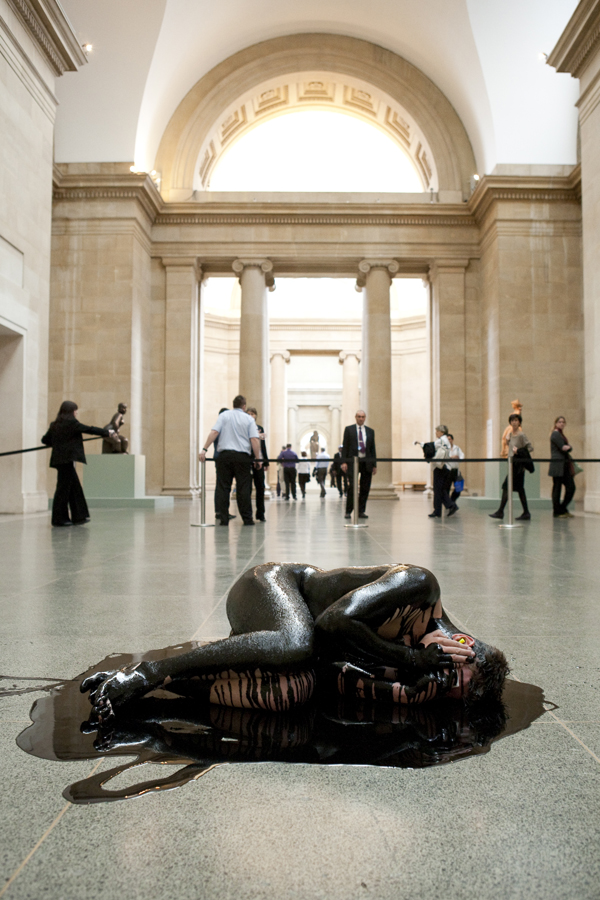 Liberate Tate, Human Cost, 2011. Performance, Tate Britain, a durational performance marking the first anniversary of the BP Gulf of Mexico catastrophe - © Amy Scaife