Le Café des Voix

To hear oneself speak is maybe the minimal definition of consciousness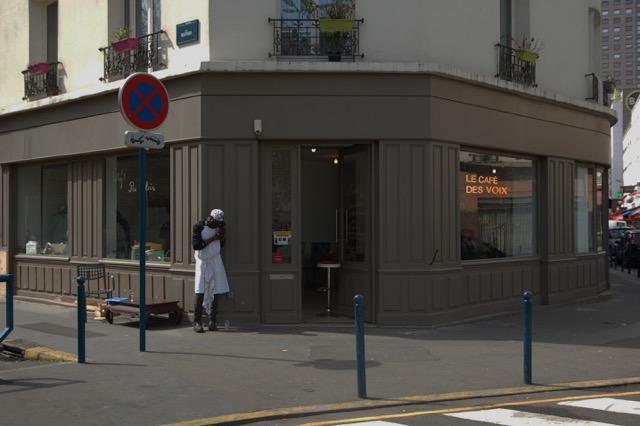 A « hearing voices cafe » is a well-patronised coffee shop, a coffee shop where one hears a host of voices. But the phrase « hearing voices » is also associated with the phenomenon of hearing inner voices. Drawing on the ambiguity of the term, Spanish artist Dora García will be setting up a temporary gathering place for people who hear voices. « Le Café des Voix » will be hosted for a one-week period by the associative café Pas si loin in Pantin, near Paris.
The project is grounded in the artist's interest in the Hearing Voices Movement that has its roots in the anti-psychiatry movements of the 1970s and the emergence of self-support groups in the 1980s. Founded in the Netherlands in 1987 by Marius Romme, Sandra Escher and Pasty Hague, the Hearing Voices Movement views itself at once as a civil rights and collective emancipation movement and a form of therapeutic self-help. Its mission is to challenge the medical model of mental illness. The English Voice Hearers Network was founded in 1988 and went on to become one of the movement's most active branches. In 1997 the various national organisations joined to form Intervoice (International Hearing Voices projects), an organisation that supports projects and research on an international level. Intervoice organises the annual World Hearing Voices Congress se réunira à Paris du 19 au 22 octobre 2016.
Voice-hearing is not only a widespread phenomenon, it has also played a significant role in cultural history. Famous philosophers, believers and poets, from Socrates to Teresa of Avila, from John of the Cross to the American avant-garde writer Hannah Weiner, have regarded voice hearing as a rare talent and a special gift. Other artists' experiences of the phenomenon have been less positive, but it nevertheless influenced their work in a significant way: Sarah Kane, Robert Walser, Virginia Woolf or Philip K. Dick, to name just a few examples.
Dora García's Hearing Voices Café project revolves primarily around the sharing of experiences and research in order to de-stigmatise the phenomenon. Becoming part of the regular running of its host establishment — the Pas si loin café — Le Café des Voix will function as a public meeting place for individuals who have a personal experience of voice-hearing or other extra-ordinary experiences, as well as their allies (health carers, friends and family), other people interested in the phenomenon and chance guests. The community that will be gathering in the café apprehends these phenomena as a sign of the diversity of human experiences rather than a symptom of mental illness, and all participants' singular experiences and beliefs will be respected.
Some participants will share their experiences and their journeys of recovery, others will be speaking about how voices are experienced and apprehended in the Maghreb, in Africa, in South America. Yet others will be interrogating the categories of psychiatry, presenting alternative apparatuses and systems: mutual support groups, trans-cultural consultation and trauma consultation. Detailed documentation on the subject will be available, including books, a regularly updated newspaper and audio work.


Le Café des Voix at Pas si loin in Pantin
1, rue Berthier / 93500 Pantin
From 30th May to 3rd June 2016, from 4:00 to 8:00 pm

A conversation programme will be proposed. These conversations with guests will begin at 5.30 pm (details forthcoming).
A selection of books on voice-hearing will also be available for public consultation.
Dora García a également ouvert un blog pour la Café des Voix qui sera alimenté régulièrement : https://lecafedesvoix.wordpress.com/




 ________________________
Le Café des Voix is a project by artist Dora Garcia developed in collaboration with the Pas si loin café. The programme was established in partnership with Magali Molinié of the French Voice Hearers Network (REV France).