The Choreography of Labour #2
with Jean-Marc Piquemal, choreographer, specialist of Labanotation.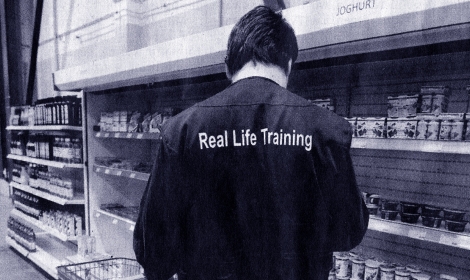 What are the parallels and the differences between a dancer and a worker? Is learning a gesture of a choreography the same as learning the movements for painting a wall? How do you learn how to dance? How do you learn how to work? Learning a dance choreography means the translation from one body to another by copying and imitating the images of the movements. But apart from their aesthetic value, what do the movements of a performance/dance mean in themselves? The human being copies gestures, mimics them; these bodily gestures are learnable. Through exercises the body is being trained, disciplined and automated, thus enabled to be put into service for the state or at a working place. But learnable working movements operate regardless of the contents of the work itself. What does the work in itself mean? With the training of movements and gestures, the body has to quickly adapt to new occupations and to grasp new skills. This becomes increasingly necessary in situations of crisis, e.g. during the economical crisis in the 1930s or in our days where workers have to face the demands of mobility and flexibility. Different programmes by employment offices engage to discipline unemployed people through various occupations. This requires a radical and absolute interiorisation of movement in the body.
This reflection also serves as a starting point for reconsidering the role of the body in art/film/production as a testing ground for strategies of efficiency and education.

Jean-Marc Piquemal is a dancer and choreographer, specialist of the Labanotation and practitioner of Body-Mind Centering. He organizes workshops, develops  choreographic projects through non-profit organization "244" and collaborate with numerous artists.
---
+ date
friday october 4th, 8pm
+ free entrance on reservation
at reservation@leslaboratoires.org / +33 (0)153 561 590
---
In collaboration with the AFPA (Stains), À vous de jouer (Aubervilliers), Biorythme (Montreuil), Lycée Jean-Pierre Timbaud (Aubervilliers) and the UGECAM/CRP (Aubervilliers).
---
Image: Carsten Koall / Visum