HORS-LES-MURS: The Choreography of Labour #3
Sunday 24th November 2013, 6pm
performance
lecture
conversation
With Marina Vishmidt, at the Collège des Bernardins, in the frame of the cycle Possessions, produced by Khiasma, in collaboration with Phantom.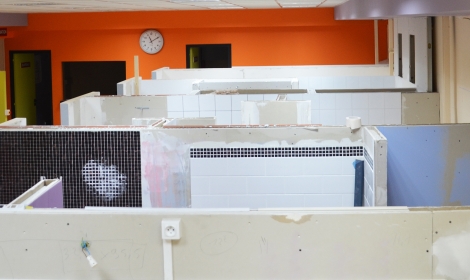 At the Collège des Bernardins, Romana Schmalisch will discuss together with the London-based writer Marina Vishmidt about the influence of the economy on the educational system, the approaches and goals of the support programmes, and finally the role of the body in this context: "From early on we learn to be disciplined, to remain in a sitting position for hours, to obey, to be punctual, and to use a language adequate to the respective context. Acquiring these habits is demanded and forced by the school system and during vocational training, which prepare us for meeting the requirements of the world of work and being able to function in society. But are the conditions of labour and its concept ever questioned during the entire period of education? Or does labour only appear as the subject of historical investigations or in theoretical contexts, like in economic or social sciences? And when neither the particular aspects of labour are being questioned nor the "meaning" that one's own current or future work would have – short of providing one's livelihood – how does the individual come to a decision about his or her occupation, and by which space of possibilities is this decision limited?"

Marina Vishmidt is a London-based writer who deals mainly with art, value and the politics of work and abstraction. A former Research Fellow at the Jan van Eyck Academie, she has an MA in Modern European Philosophy and got her PhD at Queen Mary, University of London on speculation as a mode of production in art and capital. She is the co-editor of 'Uncorporate Identity: Emblem and Void' (Lars Müller Publishers, 2010) and a regular contributor to artists' publications, critical readers and journals such as Mute, Texte zur Kunst and Afterall.


---
+ place
Collège des Bernardins. 20 rue de Poissy, 75005 Paris
+ date
sunday 24th november 2013, 6pm
---
This performance takes place in the frame of the cycle Possessions, produced by Khiasma in association with Phantom (Fabrique et diffusion de nouveau cinéma). Possessions is a programme of projections, performances and conferences starting in Fall 2013 in many venus of Paris area (cinemas, art centers, museums, libraries...). From November 12th to December 12th 2013.  www.possessions.fr
---
Image: A vous de jouer, Ateliers du Bâtiment - 2013, Romana Schmalisch