"Ne travaillez jamais!" #2
Tuesday 12 November 2013, 19h-21h
workshop
reading
discussion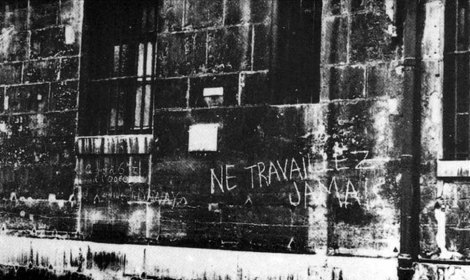 "Ne travaillez jamais!" ("Never work!") #2: with the article Le capitalisme à la sauce artiste (Capitalism Served up by Artists) by Anne Querrien, published in the review Multitudes, issue 15, winter 2004. For this second reading workshop, we propose a discussion of an article written against the backdrop of demonstrations by media industry workers on short-term contracts (intermittents du spectacle) who were speaking out against increasingly inconsistent work schedules and other problems. This movement led the author to consider the artist's work through the lens of the book Le nouvel esprit du capitalisme (The New Spirit of Capitalism) by Luc Boltanski and Eve Chiapello. Reading and analysing this article will provide us the opportunity to examine two concepts, adding them to our reflection on the relationship between "art and work", first the "city through projects" an almost urban symbolisation of artistic production as organised in networks, and then the concept of "artistic critique" growing out of the claims of the May 1968 demonstrations in France. From the worker claiming the identity of artist in May '68, to the current predominance of the "project" in most production sectors (artistic or otherwise), Capitalism Served up by Artists provides a rich basis for understanding our economic and social system as well as the new conditions for the artistic productions it occasions.
Anne Querrien is a sociologist and urban planner. In May '68 she spoke out for the Mouvement du 22 Mars and then worked at the Cerfi with Félix Guattari. She headed the editorial team at the review Les Annales de la Recherche Urbaine. Contributes to the editorial team of Multitudes and Chimères and is a member of various associations such as AITEC and CLCV.

---
"Ne travaillez jamais!" ("Never Work!") a reading and discussion workshop open to all! While waiting for the Printemps des Laboratoires #2 (May 2014) focusing on the subject of "art and work", we propose a reading group to exchange ideas and come to grips with what is at the core of this rich issue, through monthly sessions and a body of literature supported by other material – texts, objects, films, documents, etc. We could discuss, among other things, the choice that some artists make to orient their practice to immaterial work, processing information and inhabiting social networks. In our reflection we will also include the question of remuneration and what it means, examining the specific cases of artists' unions, studying the role of the artist as belonging to a capitalist semi-feudal system or occupying an oppressed and marginalized position, and many roles in between.
---
The meetings take place every second Tuesday of the month. For each session, one or two short texts (sent in advance to participants) will serve as a basis for discussion. This reading workshop is free and open to all: no specific knowledge is required, only the desire to read and participate to discussions. To receive the texts, contact by e-mail Clara Gensburger, at c.gensburger@leslaboratoires.org.