Manifesto #9 - In a Search for WE
Friday 17th January 2014, 20h
choreography
literature
manifesto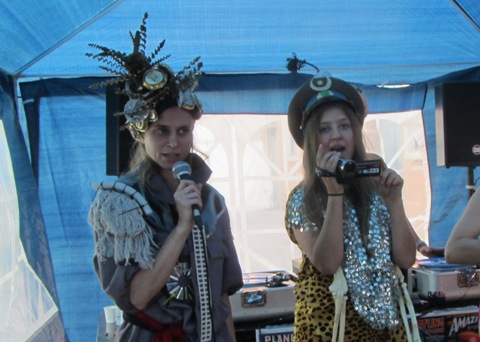 In a Search for WE - Magdalena Chowaniec and Valérie Oberleithner

During their stay at les Laboratoires d' Aubervilliers, Oberleithner and Chowaniec put emphasis on one chosen sentence of their Manifesto – `Open the circles of dependence'. In a search for ideas and solutions contributing to the process of re-shaping and constructing a common future,  they act in the specific local context of the city of Aubervilliers, inviting local children to look for solutions with the artists. Chowaniec, Oberleithner and the kids, together will be confronted with the Manifesto and will embody it in various forms – of dance, song, drawing, video, text, during workshops on January 8th, 11th and 15th. With this shared practice, both choreographers attempt to break the usual scheme of the art production based on curators – artists – audience  triangle relationship. Children play here a significant role of a stirring force which enables alternative  relations demanded by the Manifesto, to arise. On the 17th of January, the audience is being invited to witness the results of this special encounter.

In a Search for WE is a project initiated by M. Chowaniec and V.Oberleithner. It reflects upon the common future of the western contemporary performing art scene. It embraces the movement globally as well as it tries to look for solutions in the local contexts. Project develops and exists modular, hosted by various institutions, festivals, organisations and individuals. At its base lays the Manifesto In a Search for WE which urges today's citizens not only to re-think the current situation but rather to re-act here and now. The Manifesto is directed towards the society and it encourages the search for other ways of co-existance and collaboration then the ones proposed by the capitalistic system.

Magdalena Chowaniec is a dancer, performer, choreographer, singer and a fighter born in Poland in 1983. She studied dance and performance at the State Ballet School in Bytom (PL) and at the Anton Bruckner University in Linz (AT). She holds a MA in Dance Arts.  She worked with a.o SUPERAMAS, Oleg Soulimenko, Cooperativa Performativa, Mark Tompkins, Georg Hobmeier, Agata Maszkiewicz, Mathieu Grenier, Jerome Bel and Amanda Piña. In 2007 she obtained a DanceWEB scholarship and together with Valerie Oberleithner created an artistic collective Mariamagdalena. Her works were shown in various European venues. In 2009 she obtained a scholarship for performing arts from the Austrian Ministry of Culture and she is being mentioned as "Remarkable Emerging Choreographer" in the Yearbook of Ballettanz 2010. Since 2008 she's a lead vocalist of a post punk band The Mob Fixing Freedom. By the end of 2012 in Vienna, she started to work with Valerie Oberleithner on an ongoing project In a Search for WE.

Valerie Oberleithner is an Austrian choreographer, performer and dancer. She studied Literature Science/Philology at the Karl-Franzens University in Graz, Austria and contemporary dance at the Anton Bruckner Private University in Linz, Austria. She completed her University studies with a Bachelor of Dance in 2008. In 2007 she received the danceWEB scholarship. Since 2006 Valerie has been continously working with international choreographers and dance companies in Vienna and abroad: Superamas, Jennifer Lacey, Boris Charmatz, Oleg Soulimenko, Fanni Futterknecht, Amanda Pina, Doris Stelzer, etc. Valerie´s own artistic projects include: Show Me! with Olivier Tirmarche, Pittoresque with Fanni Futterknecht, Splendid Isolation with Olivier Tirmarche and Jennifer Lacey and [J-1] with Olivier Tirmarche and Raul Maia. Splendid Isolation was presented at [8:tension] Young Choreographers' Series, ImPulsTanz 2011 and at the eXplore dance festival Bucharest in October 2011. During spring 2013 Valerie has been collaborating with Mark Tribe and Chelsea Knight two New York based video artists on their ongoing project Posse Comitatus that was part of the Nouvelle Vague exhibition at the Palais de Tokyo in Paris and has been presented at the exhibition throughout June 2013. At the moment Valerie is collaborating with the Polish, Vienna based choreographer Magdalena Chowaniec on their longterm project In a Search for WE. During summer 2013 they were invited at Impulstanz Festival to lead the Choreographers Venture In a Search for WE. The project is being invited throughout Europe during the year 2013\2014. Valerie is teaching dance throughout Austria. She is working in Vienna, Paris and Brussels.
---
Free entrance on reservation:
reservation@leslaboratoires.org and 0033 153 561 590