Call for Participation / Open house day
Saturday 23rd January 2016, 2:00-6:00 pm
CALL TO PARTICIPATION / OPEN HOUSE DAY
Saturday 23rd January 2016, 2:00-6:00 pm
From February to March 2016, Marinella Senatore, an Italian artist in residency at Les Laboratoires d'Aubervilliers, has proposed to set up a performing arts school which will be free of charge and open to all.
Les Laboratoires d'Aubervilliers will be temporarily hosting The School of Narrative Dance, a nomadic learning space which the artist has previously set up in various cities across the globe (Cuenca, Berlin, Rome, Venice, etc.).
The school's grounding principle is knowledge exchange between its very diverse group of participants which includes both children and adults, hailing from a very broad range of training/academic backgrounds. A series of weekly workshops including craftwork, poetry, screenwriting, and corporeal practices tied to dance will begin on 23 January 2016, following an initial meeting with a group of participants who wish to share and collectively develop their talents.
Each participant is invited to teach or learn from the other members of the group. This series of exchanges and workshops will give rise to a work co-created by the participants themselves. It will take place in Spring 2016, in the company of the artist.
To knew more about these school and workshops, please come and meet Marinella Senatore at Les Laboratoires d'Aubervilliers,
Saturday 23rd January 2016 at 2:00 pm.
FREE ENTRANCE TO ALL

Information from Sarah Papon
at 01 53 56 15 90 or s.papon@leslaboratoires.org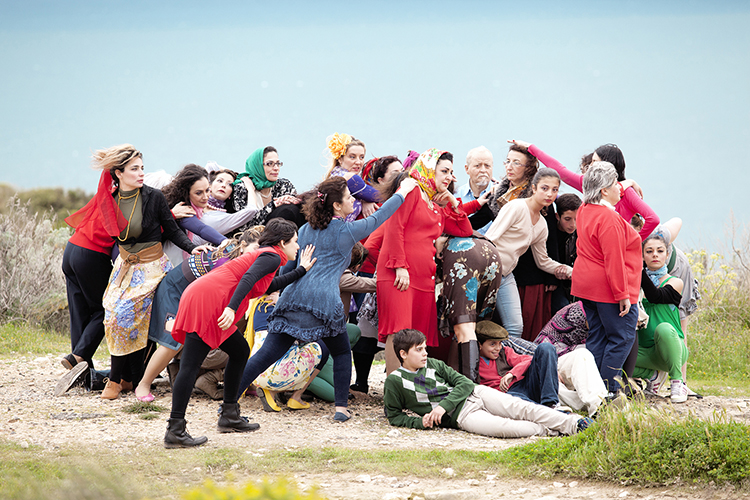 photo : courtesy Marinella Senatore