No Title / Mette Edvardsen
Friday 21st April 2017, 8 p.m.
No Title
Choreographic piece by Mette Edvardsen




Mette Edvardsen created the piece No Title (2014) as a response, a complement, a mirror image of Black (2011). If in Black she was able to invoke objects, domesticity and events by the repetition of a word, in No title, she makes existing things disappear, things as concepts and, as concepts, to start with, they are actually not "there". Edvardsen understands her practice as "writing in time and space", and indeed she adheres to the principle that things exist because they are named, and will cease to exist the moment they are un-named. It is the voice of the speaker that makes things appear and disappear, as if in a magical spell, as in the songlines of Aboriginals. The world, as the stage in Mette Edvardsen's pieces, is empty, and it is language that is able to structure this world and give it the appearance of reality, reality being just one among many possible hallucinations created by language.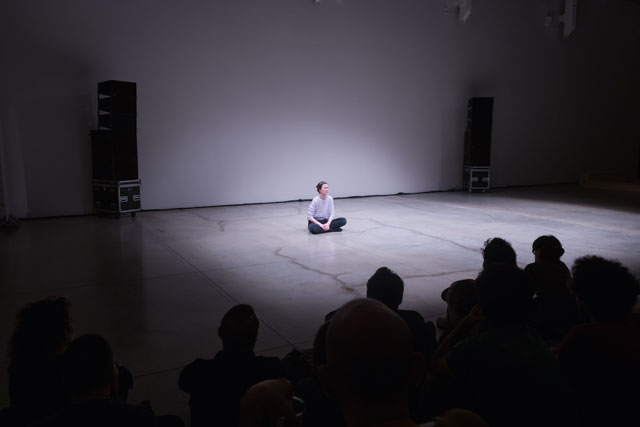 Mette Edvardsen au festival Xing à Bologne - image Massimiliano Donati
_________________________
The work of Mette Edvardsen is situated within the performing arts field as a choreographer and performer. Although some of her works explore other media or other formats, such as video, books and writing, her interest is always in their relationship to the performing arts as a practice and a situation. With a base in Brussels since 1996 she has worked for several years as a dancer and performer for a number of companies and projects, and develops her own work since 2002. She presents her works internationally and continues to develop projects with other artists, both as a collaborator and as a performer. A retrospective of her work was presented at Black Box theatre in Oslo in 2015. She is currently a research fellow at Oslo Arts Academy.