Classes de Lutte #3 / The "major minors". Unaccompanied young foreigners
Tuesday 6th June 2017, 8:00 pm
Classes de Lutte #3 /
The "major minors". Unaccompanied young foreigners: official invisibility and hosting practices
Rencontre Tuesday 6th June 2017, 8:00 pm
"I'm afraid I'll die in the street, I was so cold last night."
December 2016, Paris. A, 17 years old and shaking with cold, is waiting outside the Porte de la Chapelle humanitarian camp opened by the City of Paris two months earlier. Inside, a social worker is asking, "Are you sure he's a minor? He's got a moustache. They often lie, you know."



In Paris and all over France young people are wandering the roads of exile. Too young to be put with the adults, and regarded as too old for the systems of aid for children, they are officially numbered at less than ten thousand. But the figure could be twice this, if we go by the rejection statistics – running at 90% in Paris – from the reception bodies that contest their status as minors.
These "major minors" live singly or in small groups in cities that list the two categories separately. Officially invisible, they are the first to fall victim to institutional or street violence. What does the rejection of these young people by the relevant institutions in France teach us about the prevailing state of injustice? What individual and collective means are being used to help them? What does the look in their eyes tell us of their ongoing estrangement from the world? Sometimes, however, these mistreated young people encounter generous souls and manage to find a place in society.
Our two guests, Clémentine Ébert and Olivier Favier, are striving to make the world a more liveable place for them. During this event they will recount the contradictions and harshnesses of the French system, and the daily difficulties faced by these young people – but without forgetting the courageous smiles, the victories and the steps to be taken in the continuing struggle for the intake of "unaccompanied foreign minors and adults" who ask no more than to grow up here and recover the light-heartedness of youth.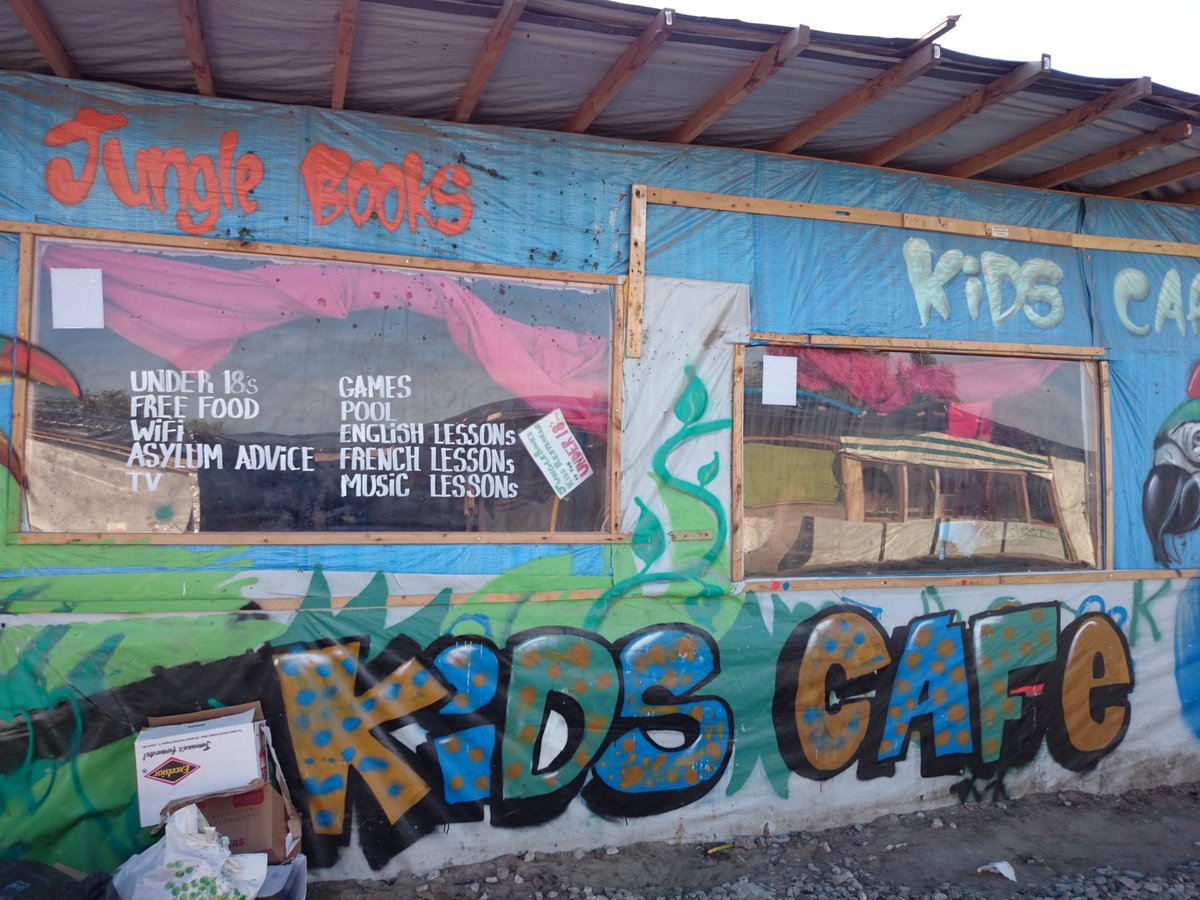 Kid's Café in the Jungle of Calais photo took by Tak Tak Tak, collective of architectural designers working to provide built projects to people and communities in need _ all rights reserved
Clémentine Ébert has been practising as a lawyer since 2011, specialising in the law regarding foreigners, asylum and French nationality. She worked for several years for a law firm in Paris before opening her own office in Metz. She also works with groups including the foreigners' rights association ADDE, the Human Rights League of France and Lawyers without Borders.
Olivier Favier is a trained historian who also translates and interprets from Italian. His publications include Chroniques d'exil et d'hospitalité (Le Passager clandestin, 2017) and he runs the blog "Dormira jamais", a blend of narratives by young foreigners, critical pieces and discussion of political, literary and cinema issues.