Classes de Lutte #4 / Out of the clandestinity closet
Tuesday 12th September 2017, 7 pm
Classes de Lutte #4 /
Out of the clandestinity closet
Tuesday 12th September 2017, 7 p.m.
                           « We work here, we live here, we're staying here! »
A rallying cry and a collective assertion of the right to be here rather than somewhere else: a slogan that has been ringing through demonstrations by undocumented workers for over twenty years now; an echo of a history of struggle hushed up and very often never heard of. A history whose leading figures are now emerging from the limbo they have been assigned to by a society that deprives them of a legal administrative identity.
Living in the interstices of the social world, the undocumented are faced with a schizophrenic society. The capitalist economy feeds off the exploitation of workers with no legal status and confined to underpaid jobs with no security. Meanwhile, via the courts and the police, the state is applying an increasingly repressive policy of expulsion, justifying this with increasingly sophisticated classification procedures for foreigners. The violence this entails is kept invisible: on the fringes of society, inside the administrative machine, in the lock-ups and "waiting areas". Official legitimation takes the form of xenophobic, identitarian rhetoric about "undesirables" and "illegals" that leaves the rest of the population ignorant and indifferent.
In the eyes of the state the men who will be honouring us with their presence during the evening have at some point lost their papers, i.e., their legal existence and their right to be here rather than somewhere else. They have now grouped together, united and claimed the right to stay.
FREE ENTRANCE, BOOKING REQUESTED
at reservation@leslaboratoires.org or at 01 53 56 15 90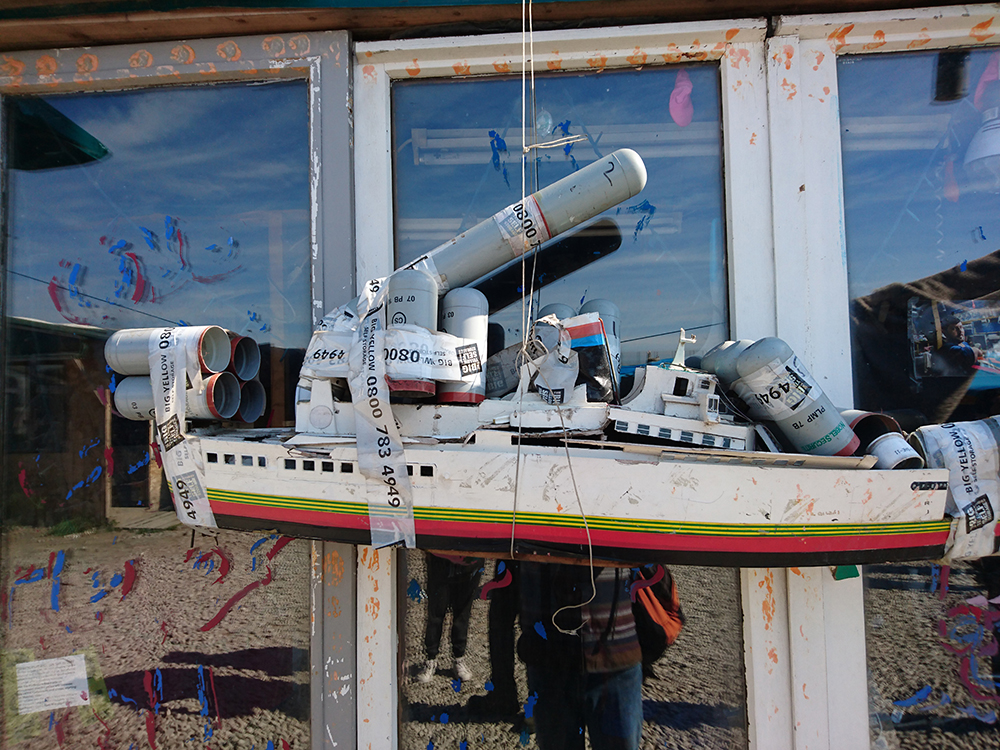 Pacific Princess, boat realised in the Jungle of Calais fromtear gas canister used, installed in front of the barber shop in the Jungle, 2015  _  image Michel Abecassis

The evening will begin at 7 p.m. with the screening of Hugo Chesnard's short feature La France qui se lève tôt (The France That Gets Up Early; 15'). The film recounts the arrest and expulsion of Souleymane Bagayogo, who will be here with us.
The evening will gon with:
Souleymane Bagayogo who arrived in France from Mali in 2001. After losing his papers he was arrested at his workplace, sent to the CRA (Administrative Retention Centre) in Bobigny and was a victim of police violence during a first attempt at expulsion. Sent back to Mali, he spent two years there before returning to France with the help of the Association Malienne des Expulsés and the Seine-Saint-Denis branch of the Confédération Générale de Travail (CGT) trade union. He now works for the union.
After making several shorts, director Hugo Chesnard is working on his first full-length film. Moved when he read about Souleymane's expulsion in the press, he decided to turn the story into a brief musical comedy.
Aboubakar Dembia, after studying philosophy in Côte d'Ivoire, arrived in France in 2016. At this time, he lives in the Rue Schaeffer squat in Aubervilliers. Threatened with expulsion, the squat's residents have formed a collective to defend their right to housing and regularisation.
Mamadou Kebe came to France in April 2007. Prior to his regularisation in 2011 he had no papers and took part in actions and strikes by undocumented workers. Naturalised in 2015, he is an active member of the Bobigny CGT and helps people seeking regularisation.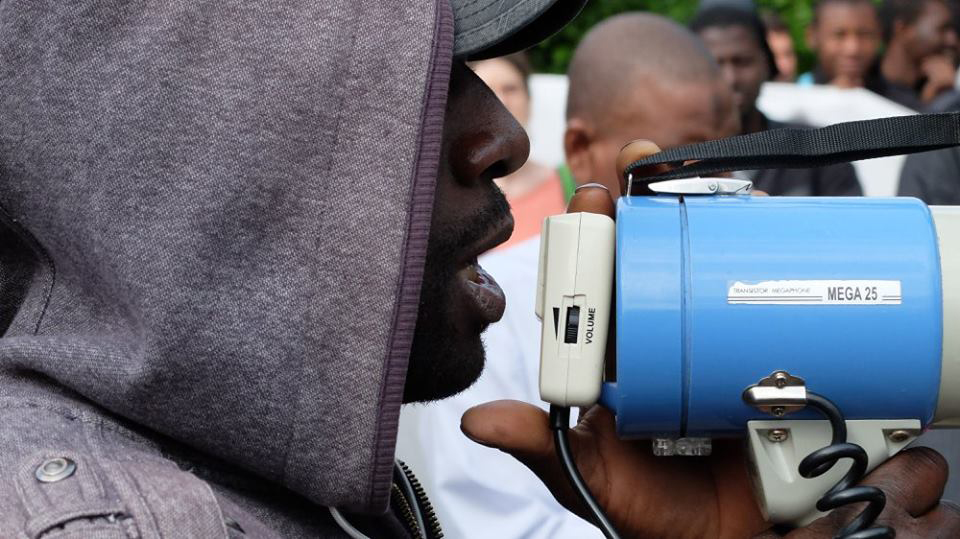 Manifestation for the closing of the Centres de Rétention Administrative (CRA de Vincennes) 18th June 2016  _  image Nicolas Jaoul