Toxic, film+installation

From 18th to 28th April, at Les Laboratoires d'Aubervilliers
Monday to Friday, 10am-6pm, Saturdays 2pm-6pm, closed on Sundays.

Opening on Wednesday April 18, 5 pm
On reservation at reservation@leslaboratoires.org and +33 153 561 590

At Les Laboratoires d'Aubervilliers, Toxic is presented in the theater where the piece was filmed, a place that is still marked by touches of the décor. A series of photos of "pederasts", queers and transvestites taken by the Paris police in 1872 will accompany the film showing. While Toxic updates the codes of anthropometric photography to better subvert and infect them, with outrageous scenery for unusual, exceptional bodies, the images themselves offer another sort of contagion – the poses struck by criminals and deviants in bourgeois photographers' studios, at a time when the standard anthropometric photography system developed by Bertillon had yet to be adopted by all police stations. Here their figures embody dissidence within an authoritarian framework imposed by photography used as a tool to control and normalize.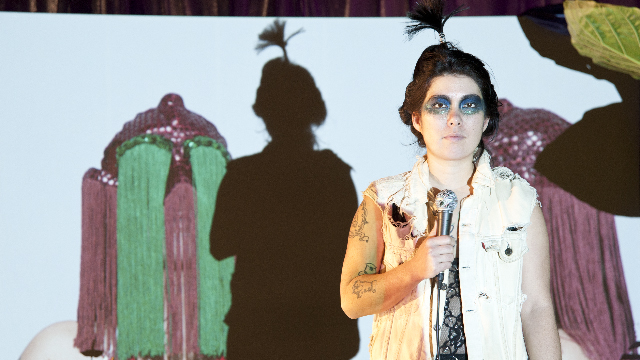 Toxic ©Ouidade Soussi Chiadmi

---------------

Free entrance