Chez Albert, the summer place of Aubervilliers' people!
From May to December 2014
public space
collaborative construction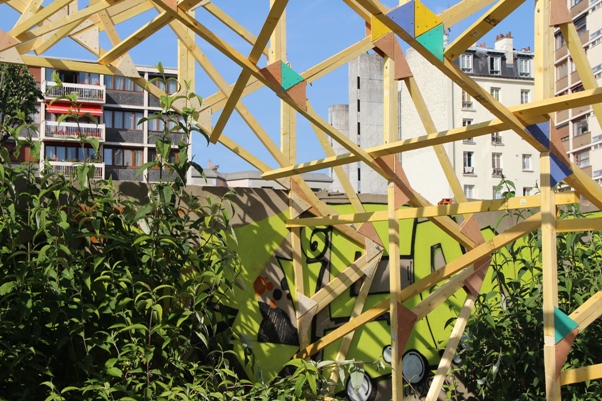 Invited by La Semeuse, Yes We Camp invested an abandoned piece of land in the Quatre-Chemins neighborhood, from April to July 2014: "We invite residents and local teams to conceive and achieve a program of permanent occupation of the site for 10 weeks. We aim at creating a program of activities and building facilities that will allow to open and activate a public space, where residents are the main agents and recipients. We also want to allow residents to invest the site on the long run, after we leave. The way we work is rooted in simple, daily actions, that we are part of. The "do" is a way to invite to do: walking, building, gardening, resting, eating, welcoming, being welcome. These uses encourage sharing and exchange among people. Processes of construction favour the recycling of materials, use of rubbish and waste and ecological practices. The technics we used have to be easy to transmit to a large number of people. This experience of creating a common space of life questions the notion of living together and of civil participation. Appropriation and change of a space in transition (after previous builfings were destroyed, and before new ones are erected) by the residents raises issues such as the history and the future of this specific neighborhood."

Opening hours:
Albert is open from Monday to Friday, from 10 am to 5 pm. Albert has two entrances: 52 rue Lécuyer and 117 bd Jean Jaurès. It's the new pedestrian shortcut in the area!
---
News about Albert are on the blogs Chez Albert and La Semeuse
---
Image: Yes We Camp, CC by-nc-sa 2.0
---
Albert benefits from the support of the Municipality of Aubervilliers