Les Talents d'Aubervilliers / auditions / Jour 2
Sunday 20th Novembre 2016, 2 to 6 p.m.
Sunday 20th November 2016, from 2 to 6 p.m.
Participants Audition of Aubervilliers' Got Talents



In residency since September 2016 at Les Laboratoires d'Aubervilliers, Kateřina Šedá was able to get to know the locals and share about their talents and skills to prepare for their participation in the contest Auberviliers' Got Talent (Les Talents d'Aubervilliers).
Registered, inhabitants from Aubervilliers are invited to showcase their talent in front of a jury of the city on 19th and 20th November 2016. Far from a logic of competition, the two days of audition will be an opportunity for exchanges and meetings between people-participants. They are open to all persons who wish to come.
This is an opportunity to find out who in Aubervilliers is preparing good cakes, who is an expert on the history of cinema, who realizes incredible paintings, who has a trained dog, who is knitting sweaters, who dances like Beyonce, who is boxing like Sarah Ourahmoune, who can bust bricks with his / her bare hand who sings, who is the best hairdresser, etc.
After the competition, the jury will meet to select the participants whose names will appear on the "Walk of fame" in Aubervilliers.
An award ceremony is organized Saturday 26th November at Les Laboratoires d'Aubervilliers, at 6:00 pm.
The opportunity to salute the winners and congratulate all participants.
This "Walk of fame" in the context of Aubervilliers will celebrates the diversity and richness of talents and the stories of the inhabitants in order to share and mark the memory of all who come pacing the sidewalk.
Through this competition and price, the artist wants the people to "take a new look on their environment and imagine a new horizon of action" in the words of Jehanne Dautrey. She hopes to allow residents to rebuild a pride of belonging to the territory where they live and work through the establishment of a device, a talent contest.


------------------
Auditions are open to all

FREE ENTRANCE, on booking
at reservation@leslaboratoires.org or 01 53 56 15 90
------------------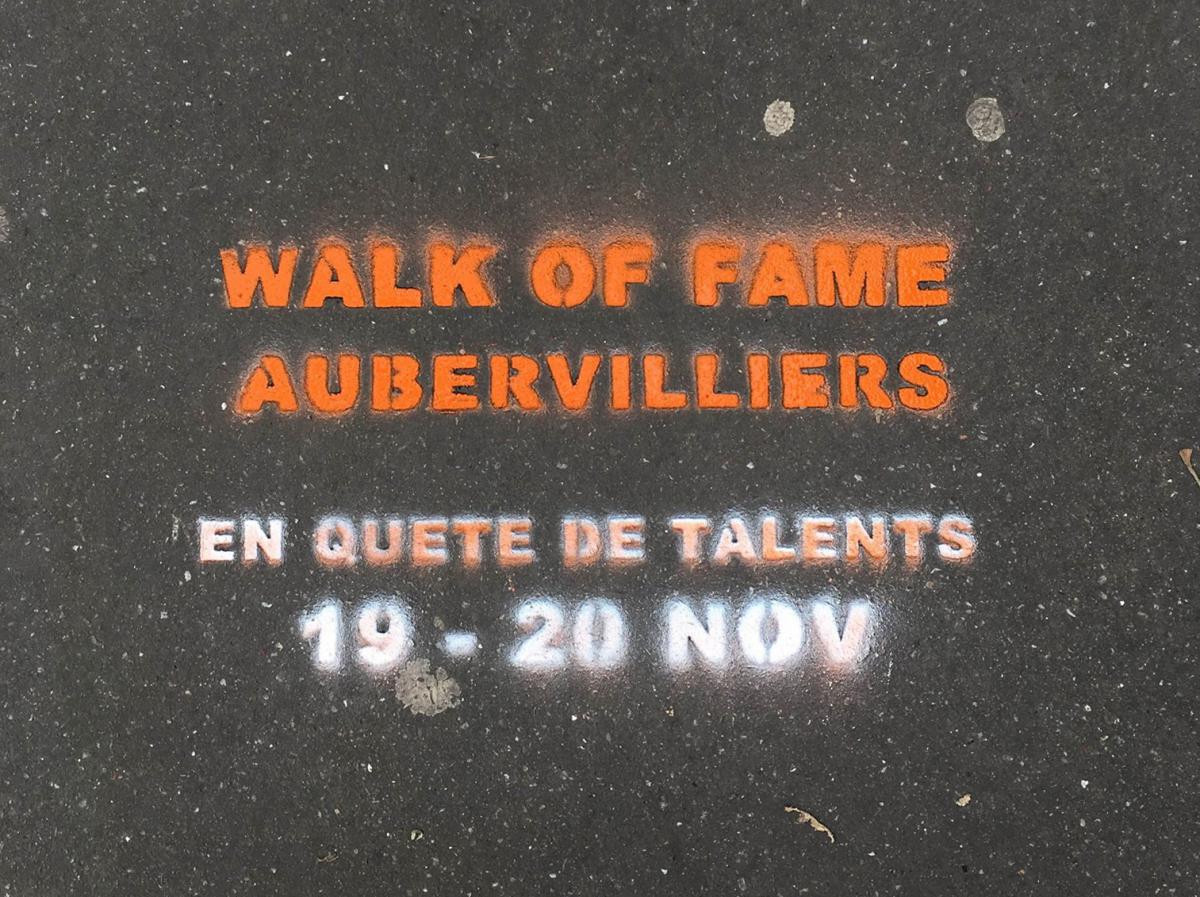 -----------
* Jehanne Dautrey (under the direction of), Milieux et créativités, Ensad de Nancy and Les presses du réel, 2016 - in french