Vendredi 27 novembre 2020 à 18h - Lundi 30 novembre 2020 à 18h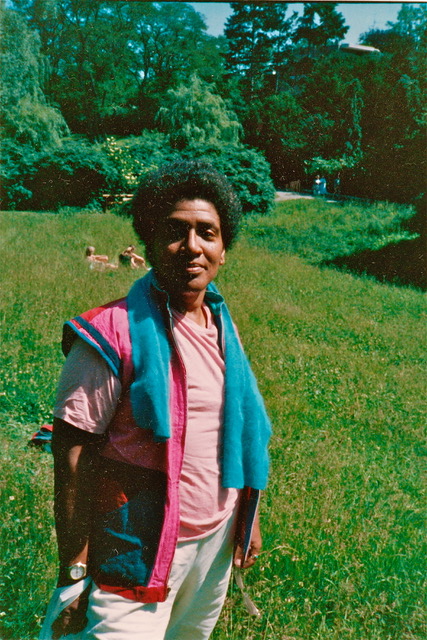 CORPUS #3
Projection en ligne du documentaire
Audre Lorde – The Berlin Years 1984 to 1992 de Dagmar Schultz 
du vendredi 27 novembre à 18h
au lundi 30 novembre à 18h
Accès au film :
https://vimeo.com/482990742
Mot de passe : CORPUS2020


Dans le cadre de CORPUS, le cycle d'arpentage* de la Bibliothèque des Laboratoires d'Aubervilliers, nous vous proposons de découvrir une partie des sessions consacrées à Audre Lorde, qui devaient initialement se tenir les 26 et 28 novembre 2020.
Partie remise pour le programme de lectures collectives et d'ateliers en compagnie de Cherry B. Diamond et Natacha Djedji où nous explorerons l'oeuvre et les engagements de la poète et activiste lesbienne Africaine-Américaine.
En attendant de pouvoir se retrouver en chair et en os, nous vous proposons de découvrir en ligne le documentaire « Audre Lorde – The Berlin Years 1984 to 1992 » réalisé par Dagmar Schultz en 1992.
Ce documentaire explore un chapitre peu connu de la vie prolifique d'Audre Lorde, une période où elle a contribué à l'émergence du mouvement féministe afro-allemand ou afro-deutsch et où elle a apporté sa contribution à la scène politique et culturelle avant et après la chute du mur de Berlin et la réunification allemande. Le film est ponctué de poèmes de l'autrice, qui ouvre une porte pour découvrir son œuvre et sa vie.
Audre Lorde – The Berlin Years 1984 to 1992 de Dagmar Schultz sera visible pendant 72 heures à partir du vendredi 27 novembre. Nous vous communiquerons ici le lien pour accéder au film dès vendredi.
Pour accompagner la projection, une traversée de Berlin à travers la cartographie d'Audre Lorde est d'ores et déjà disponible ici : http://audrelordeberlin.com
La carte du Berlin d'Audre Lorde mêle archives, photographies et vidéos où l'on voit l'autrice et ses camarades parler de son cancer et de sa guérison, de la chute de Mur ou encore des façons d'agir sur le racisme, le sexisme et l'antisémitisme. En explorant la carte, on tombe tantôt sur des poèmes (Harriet, 1984 / Berlin is Hard on Colored Girls, 1991), tantôt sur des moments de vie où on voit Audre Lorde chanter sur son balcon ou profiter des forêts et des lacs berlinois avec ses amies et camarades.
N'hésitez pas à nous faire des retours sur le film pour nourrir le futur cycle d'arpentage.
* L'arpentage est une méthode de lecture collective issue de la culture ouvrière diffusée plus largement par les mouvements d'éducation populaire dans les années 1950 et qui connaît aujourd'hui un nouveau souffle. Cette méthode permet d'expérimenter un travail collectif et critique, de mettre en commun nos savoirs, de créer une culture commune autour d'un sujet en articulant théorie, pratique et approche sensible. 
Le cycle CORPUS est conçu par Lydia Amarouche dans le cadre des activités de la Bibliothèque des Laboratoires d'Aubervilliers.

Pour découvrir les précédentes sessions d'arpentages des Laboratoires d'Aubervilliers : http://www.leslaboratoires.org/ctxdates/649


___________________
Crédit photo : Portrait in Farbe im Park — Dagmar Schultz
Conception graphique : Milène Mahérault